Frequenty Asked Questions
When will you post the pictures from last week?
As soon as we can, I promise. Trust me, we want them online more than anyone. We inspect each photo individually for quality, and we typically take several thousand shots a day. We will not rush mediocre photos online as a gimmick to get your business and waste your time. Please be patient and keep checking back in our store here and keep in mind they stay online indefinitely, so your patience will be rewarded! Visit FIND YOUR PHOTOS for a list of the most recent photos.
How long do photos stay online?
Indefinitely! Everything we've shot from 2003 up until now is still online in our store here. Unless we have a hard drive failure or something catastrophic happen, they should be there whenever you're ready. No rush, but they may not be there forever so order as soon as you're able to!
Any advice for finding our photos among the millions you post?
Yes! First, make sure you are looking in the correct date. Also, you can create a photo album when you start finding your photos, and put them in there. It's a free service.
Which category should I look in?
We try to make things easy on you by splitting it up by category, but some of you folks on "cross-over" bikes that are a mixture of 2 (or more!) categories, might have a hard time finding yourselves. We try to sort by what the bike is at it's core, regardless of what the dealership or owner has added. Basically, all Harley Davidson's go in Cruisers, along with Valkyries, Magnas, etc. Touring Bikes category is home to the Gold Wings, most BMWs, Pacific Coasts, Concourses, etc.
I was there one day and I don't see any pictures of me!
We put all of the photos we take online, aside from the obviously bad shots. If you don't see your photo in the shots of that day, you may have gotten out there before we did, or passed through after we stopped for the day, or we just missed you somehow. (we generally shoot from about 9am to 6pm) We sincerely apologize if we didn't get a shot of you. You may also try looking through a different category.
If you don't see any pictures at all posted from that day, they're probably not uploaded yet, (takes a couple days) or we weren't shooting. You may have seen someone else taking photos, but that doesn't mean it is always us. Some folks are out there shooting to take home their own mementos, some are shooting for business.
Are there other photographers on the Dragon?
Yes, we definitely started a cottage industry back in 2003, and many have come and gone over the years.  The only other outfit we recommend you check with is our friends at 129Slayer.com
I'm having problems placing an order!
Make sure "Cookies" are enabled on your web browser. (usually in the "Privacy" section under "Tools" then "Internet Options")
Try a different computer. This is almost a guaranteed solution. If you can use a friend's computer, or one at your place of employment, that will often do the trick.
Give it a couple of hours and try again. Sometimes they have to do maintenance that disrupts the process.
Please don't give up! We're not standing out there all day for the fun of it…ok, sometimes we are, but we do need your business to pay the bills and continue doing this.
What is a digital download?
A digital download is the electronic delivery of the digital file, via the internet, usually within 24 hours. You will receive an email with download instructions.  Visit Find Your Photos to check the order status online. The download link will be at the bottom of the page if it's ready for download.
When will I receive the Digital Download?
Orders for Digital Download NO TEXT are typically made available for download within 24 hours of the purchase.
Digital Downloads w/TEXT or LOGO may take up to 48 hours.
An email with a download link and instructions will be sent to the email address that was provided with the order. Please check your spam folder in case that email gets put into there. You can check the status of your order here. The download link will be at the bottom of the page if it's ready for download. If you do not receive the download notice in 48 hours, let us know. Visit Find Your Photos to check on the status of your order
What is "Cropping" and why is it necessary on some prints?
Cropping is the necessary removal of part of the image to fit it onto a print. Depending on the size of the print, the paper that is used is more "Square" than the original "Rectangular" photo produced by the camera. Therefor some of the image has to be left off, usually from the left and/or right side(s), in order for it to fit on the paper. We will always do our best to make it look attractive, but on very tight shots you may have to lose some of the front or rear of the vehicle to make it fit. (we usually lose more of the rear if we have to lose any of the vehicle)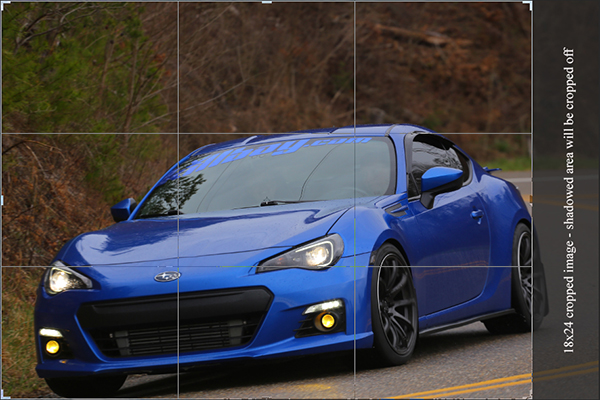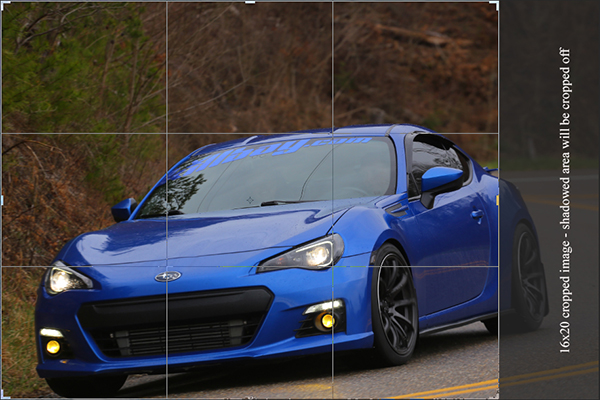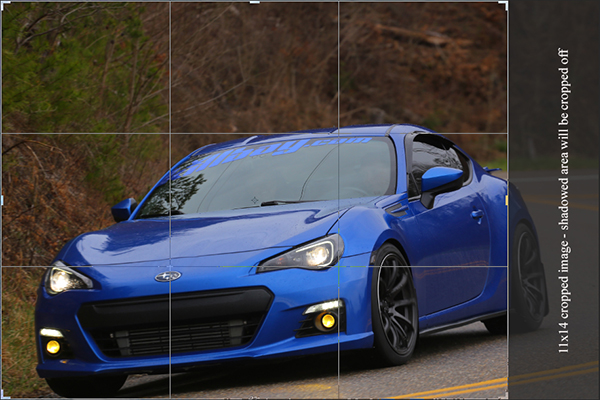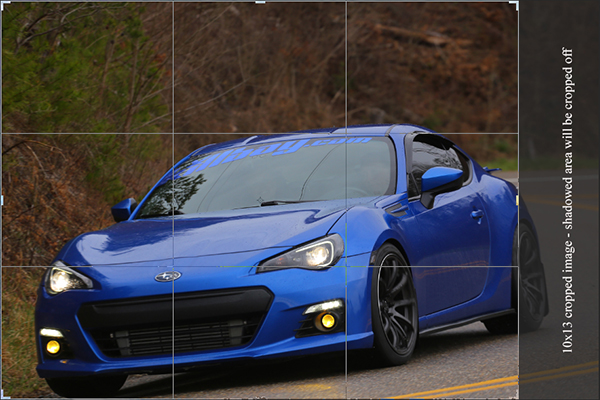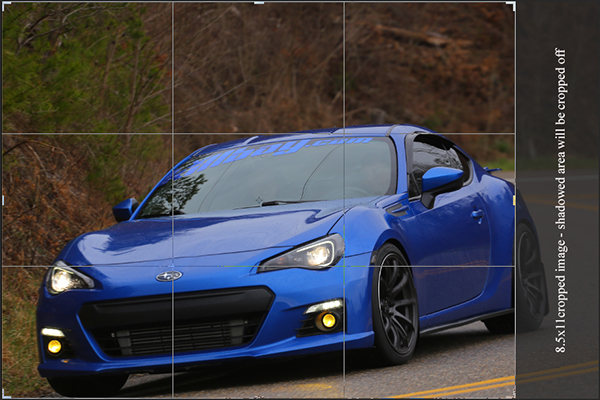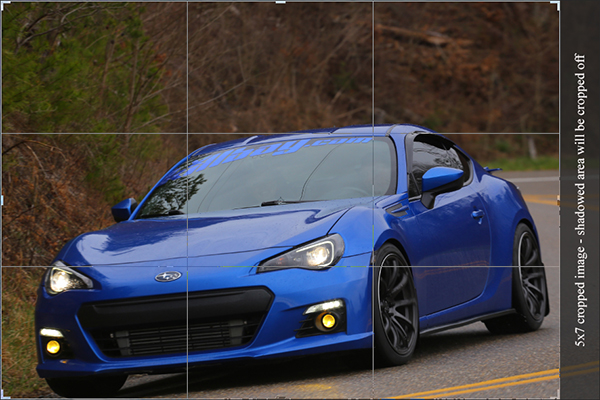 When will my prints arrive?
Prints should arrive 1-2 weeks from the date of purchase. Orders shipping outside the US may take longer, due to customs.
What is the difference between "NO Text", "WITH Text", and "Dragon Graphic Logo"?
We offer 3 different text options, with examples below
1.) No Text – This means there is no text of any kind on the image you receive.
2.) With Text – If you order a shot With Text, we open the image in Photoshop, and add text onto the image. If nothing is specified, we put: "Tail of the Dragon" (see example below).  Or you can specify what text you want during checkout ( there is an instructions box that you can enter text in) and we will put exactly what you specify on the image. We do not assume you want the generic text if you specify something, so if you want the generic text plus something else, you need to include the generic text in your instructions.
3.) Dragon Graphic Logo– If you order a shot with the Dragon Graphic Logo, we open the image in Photoshop, and add the graphic onto the image. The logo says: "Tail of the Dragon" with the dragon around the text ( see example below). Note: Text inside the dragon logo will reflect the road the photo was taken on ( Tail of the Dragon, Moonshiner 28, or Cherohala Skyway)
Other Text notes:
Text/Logo location and size will vary depending on the image, we do our best to not cover any of the bike/rider/car.
If you order Digital Download with text, you only get the image with text. (The upload is an automated process so we can't throw in extras like the original non-text.) Delivery may take up to 48 hours.
Text is only added if you order and pay for that option.  We can only fit so much on there, so keep it realistic. ?
Examples:
1.) No Text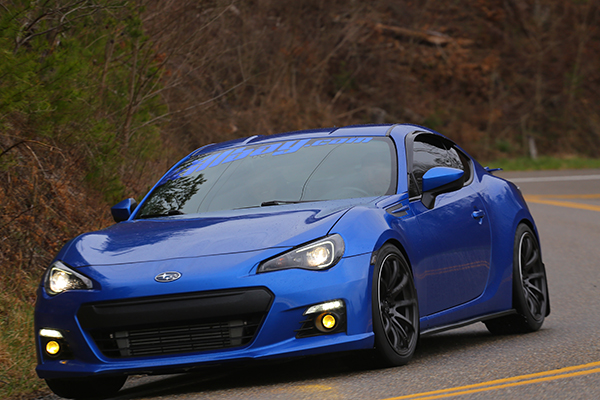 2.) With Text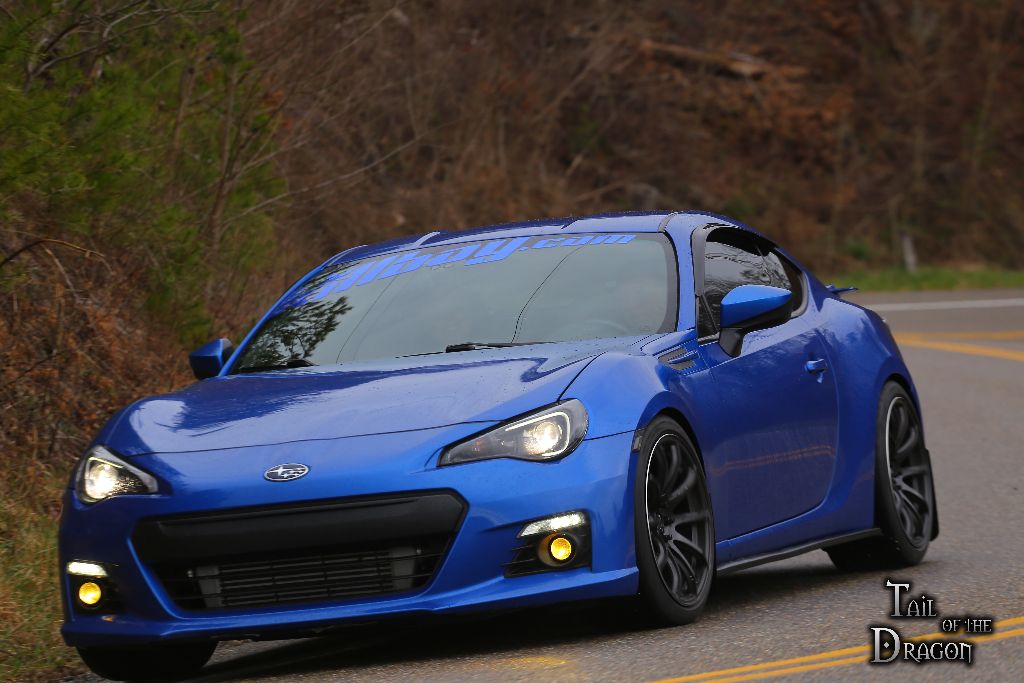 3.) Dragon Graphic Logo
Do the photos have borders around them?
No, all photos, are borderless.
What are your shipping charges?
No shipping charges on Digital Download.
Shipping physical products is a flat $5 in the US, $30 for any other country due to what the print lab charges us to ship internationally.  We have to charge a flat rate based on country though.  You can use the Digital Download option and avoid shipping charges altogether.
What can I do with the digital images?
Whatever you want, in a personal, non-commercial manner. If you want to make prints, or copies, that is fine, as long as they are not being used to make money. If you want to use the images commercially, all we usually ask is that you credit "killboy.com" and let us know about it. There is a copyright release included.
Note: We are not responsible for poor print quality by print facilities other than the ones we use and recommend. For example, Wal-Mart/Sam's Club prints are notoriously grainy. We recommend EZprints.com or RCProlab.com.
Can I order by phone?
No, sorry. Photoreflect handles all of our transactions, and we can not process credit cards ourselves. They handle all of that securely, and we do not see any of your payment info. They do not accept orders by phone either.
Can I pay by check?
No, Photoreflect discontinued this option several years ago.
Can I modify/change/combine my order(s)?
Not likely. As mentioned above, Photoreflect processes the payment info. Once that process has been completed, the order is locked-in for your own security, and sent to us for fulfillment. About all we can do at that point is fill or cancel the order, so it's important to look through all shots and make sure your order is correct before submitting.
What is your return/refund/exchange policy?
Refunds: All orders are eligible for a refund prior to being processed. Once the order has been processed, the transaction is considered complete and no refunds will be issued. If a duplicate is ordered of a Digital Download, we'll gladly refund the cost of  the duplicate digital image(s) or substitute another image for the duplicate(s).
Exchanges/Returns: Unfortunately we can not accept exchanges or returns on prints or digital items. Due to the fact that we can not restock and resale these items. Please make sure the images and products are correct before completing your order.
Refunds will NOT be issued due to selecting an incorrect photo, after the image/product has been received. We must be notified prior to order fulfillment, if a mistake has been made during ordering. ([email protected])
If an incorrect image/product is sent to the customer, that is different than what is documented on the order invoice, we will gladly correct the mistake at no charge.
What is the resolution/format of your images?
We are currently shooting at 20 megapixels in highest quality setting JPEG format. These images are more than adequate for poster prints of 24×36 inches.  Older photos are lower resolution, but should still be adequate up to 24×36 inch prints. Image files are only available in JPEG format.
Special Request Orders?
Special request orders require more time to process.
What camera do you use?
We currently use various Canon digital SLR cameras with various Canon "L" professional lenses.
Do you make a living at this?
Yes, this is our only income and it is full-time work for several of us. We do a little freelance work for magazines, but shooting 1,000,000+ photos a year, sorting, uploading, and filling orders takes more of our time than most people work at full-time jobs.
I'm coming to the Gap soon, will you be out there?
Most likely. We shoot practically every day of the week from about 9am until 6pm during the riding season. (March – November) Just enjoy your trip, and hopefully when you get home we'll have some shots of ya.
What will the weather be like when I get there?
The best thing you can do is keep an eye on the forecast. Current conditions can be seen on the Tail of the Dragon Webcam (click here).
$8 to "Push a Button" Isn't that kinda high?
Stand out in the weather & bugs every day, watching your friends have a good time. Spend $10,000+ on photo equipment along with all of the other costs and time consumption involved in sorting each photo individually, uploading and processing orders and see if you still think we're just "pushing a button". =)
Only $8 a shot? Most Photographers charge 10 times that!
Hey, we love what we do, and want everyone to be able to afford a few shots of themselves, not just the rich folks. The kids struggling through school and spending their last dime on riding gear should be able to get a few shots too. Don't let the low prices fool you, these are professional-quality shots. Several magazines have used our work, and that is from the same equipment we shoot you with.
Where did the name "killboy" come from?
I started playing online flight sims back in the mid 90's and needed a nickname. The album "Smash" by one of my favorite bands, The Offspring, had just been released. There's a song on there called "Killboy Powerhead". Not the greatest song, but I liked the name so I started using it. Eventually I registered the domain because that's what everyone was doing. For a while the website was about whatever I was into…video games, RC Cars, and finally motorcycles. The website has continued to grow and now I can't get out from under it! But it's cool, something weird, short, easy to remember.
Where can I get some of those killboy.com stickers?
Our stickers are available at the Tail of the Dragon Outlet store at the south end of Deals Gap, or you can email us at [email protected] with your shipping info and color preference and we will eventually get them out to you by mail. (be patient please) Our color choices are: Black, White, Red, Yellow, Hot Pink, Silver, Blue, Purple, and Teal.
We hope you found all the answers you were looking for. If you need any other info, feel free to Contact Us.